44% companies focus on customer acquisition while 18% focus on retention
The number of audience that digital marketing provides for your products/services is undoubtedly massive. But what good is this number if there is no strategy in place to convert them into potential customers?
Regardless of size or age, every business wants more clients. Enter customer acquisition strategy. Customer acquisition facilitates the acquisition of targeted customers in an effective way. The most important aspect of this non-stop marketing effort is choosing the right channel for your target audience and developing a value proposition that they cant resist. Acquisition and retention is a winning combination to the success of any online business.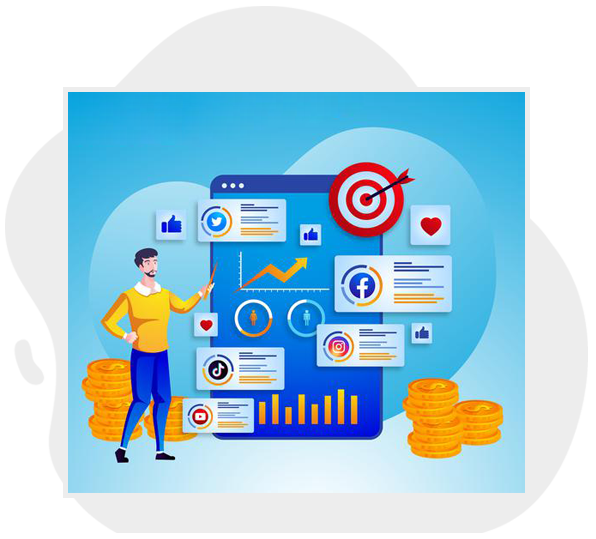 We help you continually add new customers along with retaining the old ones.
We at ERM believe that there is no one size fits all. While there are a number of customer acquisition strategies, some work more effectively with a specific type of clients and others with others. However, having a strategy in place is crucial. Through innovative and engaging strategies like the ones listed below, we identify potential customers, reach out to them, build a relationship with them and convert them into quality leads. We understand that you, as a business owner expect maximum Lifetime Value (LTV) with minimum Customer Acquisition Cost (CAC). We ensure our strategies help you get maximum return on investment as far as marketing and sales campaigns geared towards customer acquisition and retention is concerned.
Our unique portfolio of customer acquisition services include:
CUSTOMER REFERRALS

People trust other people more than ads and promotions. Through our innovative referral programs, we incentivize your loyal customers who market your products/ services on your behalf.
CUSTOMER LOYALTY PROGRAMS

By rewarding recurring engagement with your brand, you can increase customer loyalty. While there are number of programs like charity, point system, discount offers, early sale coupons and more, we help you choose the ones that will best fit your business strategy.
CONTENT MARKETING

Valuable content like e-books, templates and guides can help acquire interested customers with a great content marketing strategy. Gated content often allows access in exchange of personal information like emails, names etc.
EMAIL MARKETING

Through creative mailers, we ensure we engage with your leads on a regular basis and that your brand and product remains top-of-mind.
EVENTS

Events, whether physical or virtual, are a great way to connect with interested prospects and generate new leads. Participants readily share email ids and valuable information in exchange of informative webinars, conferences and the likes.
Please contact us using the form and we'll get back to you as soon as possible.